Main content starts here, tab to start navigating
Menus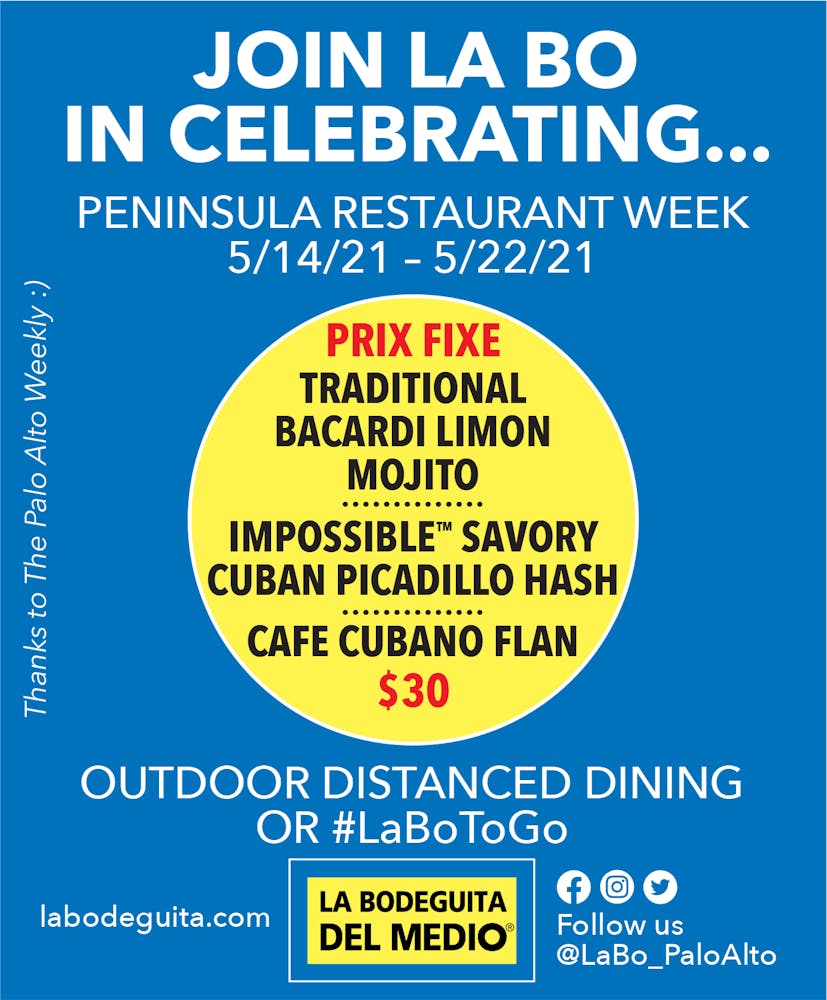 Please join us for our special pairing - celebrating Peninsula Restaurant Week!

Enjoy these three Cuban inspired favorites:
Prix Fixe $30
* Start with our traditional mojito cocktail, same refreshing recipe #Since1997 (with or without Bacardi Limon rum)

* Impossible (TM) Savory Picadillo Cuban Hash,
sauteed with sultanas, capers and olives,
served with braised red cabbage & laurel scented rice,
finished with sofrito sauce
(if you dare have leftovers, is a favorite Sunday AM leftover with a fried or poached egg)

* Café Cubano Housemade Flan (our favorite twist on the Cuban staple)
_________________________________
Available 5/14/21 - 5/22/21
Outdoor distanced Dining or #LaBoToGo
_________________________________
Also, just as we are grateful that the team at Palo Alto Weekly and Embarcadero Media has put this together for our industry, please remember that they are a local business too...
Don't hesitate to join and support our local media!
https://www.paloaltoonline.com/user/subscribe/
food menu
Starters, Salads, Sandwiches, Sides, and Stuff
Pork Empanadas

house-made pork picadillo turnovers, filled with chilis & cheese, with black bean salsa, cabbage slaw, coconut/jalapeño sauce

$15.80

Pan Roasted Pei Mussels

Sour orange, soy sauce, garlic, CTO

$15.20

Cuban Black Bean Soup

Spanish onion, parsley

$8.20

vegan

Potato Croquetas

Kid/adult-friendly, manchego cheese, tamarind BBQ sauce

$13.20

vegetarian

Marinated Olives

Orange zest

$6.80

vegan

Shrimp Ceviche

Black beans, habanero, red onion, coconut milk, lime juice, and cilantro

$16.20

Platanos Maduros

Sweet, ripe plantains

$7

vegetarian

'Mariquitas' Plantain Chips

Black bean salsa

$8.20

vegan

Crispy Yuca

House ketchup. Pronounce 'you-kah'… nothing 'yuccky' about it!

$7

vegan

Crab Cakes

Roasted corn salsa, avocado-cilantro pesto, sofrito sauce

$16.40

'CTO' Cuban Table Oil

250ml bottle. Remember the orange oil that we serve? take some home, so many uses, just ask

$12.50
yesica salad

Mixed greens, tossed with roasted shaved corn & pepper salsa, black beans, carrots, radish, citrus-cumin vinaigrette

$9.40

vegan

Palmitos Salad

Frisee, radicchio, hearts of palm, supremed ruby red grapefruit, sugar cane walnuts, avocado, lime vinaigrette

$12.80

vegan

Raw Slaw

Amazing! Shaved green cabbage, carrots, cilantro, smoked paprika vinaigrette. Sliced jalapeños are on the side, you control the spice/heat, ask for non-vegan 'MHS aioli' if you want to take up the heat!

$8

vegan
Chicharrones De Pollo Sandwich

Crispy buttermilk fried chicken, spicy 'MHS' aioli, crunchy slaw, brioche bun, side salad

$15.60

Cubano Sandwich

Butter grilled acme sourdough, roasted pork, ham, dill pickle, thin swiss, spicy dijon, side salad

$15.60
Entrees
...la bo trivia: el aljibe is a well-known, family-style chicken joint in havana...
1 Pound Bindle of BBQ Ribs

New in 2020
Served smothered in guava bbq sauce, fried yuca on the side with spicy ketchup, and a side of raw slaw with 'MHS' aioli

$24.80

Tierra Y Mar

Grilled marinated skirt steak, coconut crusted shrimp, sofrito mashed potatoes, grilled asparagus, avocado-cilantro pesto

$29.40

Pork Masitas

Chunks of traditional slow-braised pork shoulder, white rice, black beans, pickled red onions, spicy pork demi-glaze. Staff favorite! if you can't finish, makes great leftovers for tacos or breakfast scrambles!

$24.60

Ropa Vieja

Shredded skirt steak stewed with peppers, tomatoes and chilis, spiced yellow rice, sofrito sauce, maduros. Leftovers? great option for breakfast hash. do you have eggs?

$24.80

Caribbean Curry

Mild, yellow, turmeric-based curry, with spinach, carrots, yuca, red sweet peppers, coconut milk, chilis, veggies

$22.80

Shrimp? + $6

Pasta Verde

Vegan upon request Pasta (noodle type changes daily), spinach, squash, petit pois, asparagus, aged manchego cheese, avocado-cilantro butter sauce, pimento de la vera oil

$19.97

Shrimp? + $6

Arroz Con Pollo

A favorite with kids & adults, not spicy. Oven-roasted chicken, spiced yellow rice, sweet platanos maduros, pollo braising sauce, roasted sofrito sauce

$22.20

'Impossible'™ Savory Cuban Picadillo Hash (New in 2020)

Simmered with roasted tomatoes, chilis, sultanas, capers & olives, served with black beans, laurel scented rice, braised purple cabbage ('plant-based')

$25.20
Family Style Packages
family salads: choose either mixed greens or raw slaw, no substitutions or half orders
Paella Cubana

Serves 2-3. Shrimp, chicken, chorizo, mussels, cooked with yellow rice, shellfish stock, petit pois, olives, piquillo peppers, and family salad on the side

$56.40

Seafood Ajiaco

Serves 2-3. Lobster tails, black mussels, shrimp, yuca, plantain, spicy tomato cream stock, laurel rice, and family-style salad on the side

$69.20

'Winner Winner Chicken Dinner': Aka 'El Aljibe'

Serves 2-3. Cuban-style grilled chicken, black beans, laurel rice, sauteed veggies, sour orange mojo sauce, and choice of family salad (insider secret: If anyone in the house isn't in to the mojo sauce, ask for it on the side and request a side of BBQ sauce... Who doesn't love BBQ chicken #happyfamilymeal #keepeveryonehappy)

$68.40
Short Person Pasta

Plain side of pasta, plain cheese. No green garnish, no veggies

$8
Desserts
share-able
Cuban Flan

Traditional house-made

$8

Mr. Johnson's Chocolate Rum Cake

Rich, dark, chocolate sauce

$10

Key Lime Tart

Guava berry coulis

$9
drink menu
Cocktails
Mojito

Bacardi Limon, mint, sugar, fresh lemon and lime juice, with a splash of soda and crushed ice

$12.40

Paloma

Tito's Vodka, ruby red grapefruit juice, sugar cane syrup, lime juice, soda water, rocks

$13.20

Sangria

Today's recipe of wine, rum, and fresh fruit – ask your server for details

$13.20

Cuban Sidecar

Aged dark rum, triple sec with a splash of citrus, on the rocks with a sugared rim

$13.20

Dark N' Stormy

Gosling's dark rum, ginger beer, served tall with lime

$12.60

J.S.P.M.

Silver tequila shaken with citrus-pineapple juice and habanero honey, served on the rocks with a Maldon salt rim

$14.40

alamar

el silencio mezcal, citrus, cinnamon, apricot-tangerine marmalade, shaken and served on the rocks

$14.20

Zacapa Manhattan

Zacapa '23' rum, Carpano Antica Sweet Vermouth, bitters, rocks, a Luxardo cherry

$14.80

nacional no. 1

zaya rum, apricot liqueur, pineapple juice, shaken with fresh citrus juice, finished with a luxardo cherry

$13.60

Rum Rickey

Mt Gay Eclipse Rum, pressed key lime juice, served tall with tonic

$11.20

Cuba Libre

Plantation 5-year rum, coca-cola, with a hint of citrus

$11.60

Santiago Cooler

Bacardi Tangerine infused rum, pineapple & orange juices, float of dark rum

$12.40

Hemingway

bacardi limon rum, maraschino liqueur, fresh citrus juice, served up, sugar rim

$12

Havana Sling

Havana club aged rum shaken with a house-made spiced cherry syrup, magdala liqueur, pineapple & lime juices, served up with a dash of bitters

$14.20
Wines by The Glass / Bottle
sparklings & whites
NV Mercat Cava

Brut: Spain

$11

/ $44

2019 Père Anselme

White Blend: France

$8.50

/ $34

2018 Pazo Das Bruxas

Albariño: Rias Baixas

$10

/ $40

2020 Tarrica

Sauvignon Blanc: Central Coast

$10

/ $40

2019 Imagery

Chardonnay: Sonoma

$11

/ $44

2019 Caraccioli

Rosé: Santa Lucia Highlands

$12

/ $48

2016 Bernardus

Chardonnay: Monterey County

$14

/ (1/2) $28
reds
2018 Reserve De L'aube

Syrah Blend: Languedoc

$10

/ $40

2016 Altos Ibericos

Tempranillo: Rioja

$10.50

/ $42

2019 Alta Vista

Malbec: Argentina

$10.50

/ $42

2019 Imagery

Pinot Noir: California

$11

/ $44

2019 Camp

Zinfandel: Mendocino

$12

/ $48

2019 Camp

Cabernet Franc: Sonoma

$14

/ $56

2017 Turnbull

Cabernet Sauvignon: Mendocino

$16.50

/ $66
Wines by The Bottle
NV Gloria Ferrer

Blanc De Noirs: Sonoma

(1/2) $26

2017 Schramsberg

Blanc De Blancs: North Coast

$68

NV Beaumont Des Crayeres

Grand Rosé: France

$72

2009 Moët & Chandon

Dom Pérignon: France

$250
2018 Navarro

Dry Gewurztraminer: Mendocino

$48

2017 Domaine Ostertag

Dry Riesling: Alsace

$54

2018 Thirot-Fournier

Sauvignon Blanc: Sancerre

(1/2) $32

2016 Lavantureux

Old Vines Chablis: France

$60

2016 Stuhlmuller

Chardonnay: Alexander Valley

$66

2016 Mindego Ridge

Chardonnay: Santa Cruz Mountains

$68
2018 Navarro

Pinot Noir: Mendocino

$48

NV Sean Thackrey Pleiades XXVIII

Red Blend: California

$52

2019 Imagery

Cabernet Sauvignon: California

$50

2017 Branham Vineyard

Zinfandel: Rockpile, DCV

$62

2016 Mindego Ridge

Pinot Noir: Santa Cruz Mountains

$62

2018 Ridge

Pagani Ranch Zinfandel: Sonoma

$66

2016 Drew

'the Ornbaun' Syrah: Mendocino

$68

2016 Hale Mary

Pinot Noir: Russian River Valley

$68

2015 Twomey Silver Oak

Merlot: Napa Valley

$82

2015 Roda Reserva

Tempranillo Blend: Rioja, Spain

$94

2014 Numanthia

Tinta De Toro: Toro, Spain

$98

2016 Purgatori

Cariñena Blend: Costers Del Segre, spain

$120

2015 Silver Oak

Cabernet Sauvignon: Alexander Valley

$122

2016 Flor De Pingus

Tinto Fino: Ribera Del Duero, spain

$132

2014 Benziger Tribute

Bordeaux Style Blend: Sonoma

$140

2013 Silver Oak

Bordeaux Style Blend: Napa Valley

$175

2012 Martin Estate

Reserve Cabernet: Rutherford

$180

2015 Mas La Plana

Cabernet Sauvignon: Penedes, spain

$210

2006 Vega Sicilia Unico

Tinto Fino Blend: Ribera Del Duero, spain

$420
bottle
Hatuey

Original Cuban Ale

$5.60

Chimay

Blue (750 mL)

$32

Orval

Trappist Pale Ale

$12
draught
Stiegl

Grapefruit Radler

$7.40

Bitburger

Pilsner

$7

Benediktiner

Hefeweizen

$8.20

Chimay

White

$11.80

Anderson Valley

Boont Amber Ale

$7.80

Rogue

'Batsquatch' Hazy IPA

$9.20

Westmalle

Belgian Dubbel

$12.40

'cheer with beer'

rotating special

$5
current outdoor distanced dining & to-go
open tuesday - saturday, 3:00 - 8:30 ish
note: we'll be doing some of our own 'PPP' in 2021, pop-up pork parties
please sign up for our email if you want to be notified
(home page, bottom right, we don't sell or share emails)
specials
"cheer with beer" special

our rotating tap is currently Bembel 'Apfelwein Pure', a German off-dry cider (yep, not a beer tonight :)

$5

starter… crispy calamari

habanero remoulade

$15.40

entree... pollo a la plancha

spice rubbed + marinated chicken, grilled on the plancha, roasted corn mezcla, black beans, piquillo sofrito, micro cilantro

$25.40

dessert… chocolate natilla (hansen family favorite)

housemade callebaut pudding, rum whipped cream

$12.20
Not sure what to do with your $600 stimulus check?
Feeling generous and want to keep it local?

Choose your favorite group of medical personnel, front line workers, teachers, first responders...
& treat them to a delicious La Bodeguita lunch!
We are offering 36 hot lunch boxes for $600 (tax included).
3 entrée choices available
(min 10 of each - no modifications)
We will personally deliver outside (to one location)
if it is within 5 miles of La Bo.
Must be Tuesday - Saturday between 11:30 AM and 2 PM.
Email BOH@LaBodeguita.com if you are interested or have any questions. Advance booking required.
Download PDF
'stimulus lunch package for 36'
NOTE: additional entrees $18 each (maximum 60 people) individually packaged for safety and distancing, flatware/napkins included upon request
'impossible'™ savory cuban picadillo hash (minimum 10 orders)

simmered with roasted tomatoes, chilis, sultanas, capers & olives, with black beans, laurel scented rice, braised purple cabbage ('plant-based', aka vegan)

arroz con pollo (minimum 10 orders)

cuban style, oven-roasted chicken, mildly spiced yellow rice, sauteed veggies, pollo braising sauce, roasted sofrito sauce

pork masitas (minimum 10 orders)

chunks of traditionally slow-braised pork shoulder, white rice, black beans, pickled red onions, cabbage, spicy pork demi-glaze & micro cilantro
Slide 1 of 5
Slide 2 of 5
Slide 3 of 5
Slide 4 of 5
Slide 5 of 5